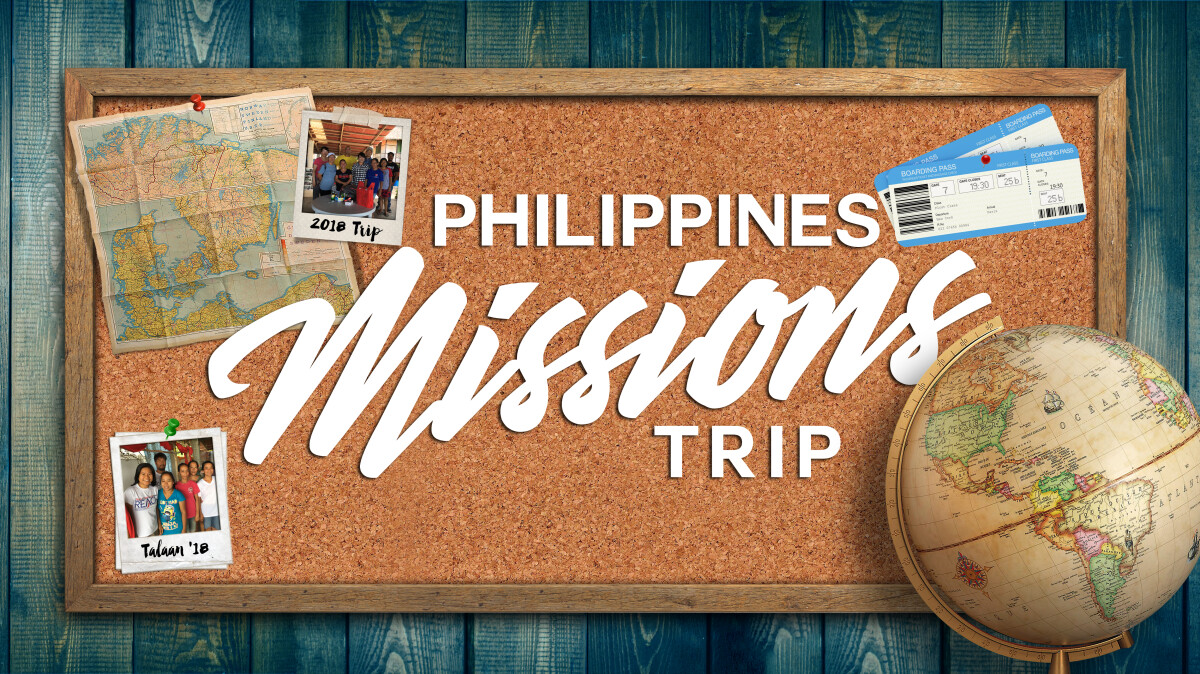 Friday, February 15, 2019, 7:00 AM - Sunday, February 24, 2019, 12:00 AM
"Then Jesus came to them and said, "All authority in heaven and on earth has been given to me. Therefore go and make disciples of all nations, baptizing them in the name of the Father and of the Son and of the Holy Spirit, and teaching them to obey everything I have commanded you. And surely I am with you always, to the very end of the age." - Matthew 28:18-20
Just as Jesus gave us this great commission, we are asking you to join us and obey his command.
History of how we were connected:
In 2017, New Hope Community Church (NHCC) was involved in a sponsorship campaign for Compassion International, a charitable organization that sponsors children around the globe. Through many efforts of our New Hope campuses, we were able to sponsor ALL the children located in Talaan. We also raised additional funds through the Vacation Bible School that summer. Those funds helped the Talaan church, who desperately needed immediate resolution in repairing a failing sea wall in Quezon Province, Philippines where many of the Compassion children live. Soon thereafter, an idea of a missions trip to Talaan was considered and we began communicating with the leadership at the Talaan church, 3G- Hosanna Ministries Inc. (3G-HMI).
History of 3G-HMI
The Christian missions in Talaan began in 1998 and this year marks their 20th anniversary. The first 10 years of the missions work focused on building relationships and trust with local population through witnessing and home and school visitations. In 2008, Alice Cheock established a church in barrios Talaan to hold church services, provide training and education for Christian volunteers, and facilitate numerous medical, dental and other assistance visitations. In 2014, Compassion International entered into an agreement with 3G-Hosanna Church to serve as a Compassion site, whose vetting process is very stringent to ensure fiduciary responsibility and program management. Since then, 3G-Hosanna's ministry has grown to manage 126 local children who are part of the Compassion International Program and has served as many as 3,000 children in Talaan and its surrounding villages. 3G-HMI's Vision is: To work out God's plan of Redemption. 3G-HMI's Mission is: 1) We will evangelize every person (adult, youth and/or child) we are in contact with within Barangays (villages) Talaan, Ransuhan, Salinas, Barra and Castannas; 2) We will introduce and teach every person or individual the Bible as the Word of God to be followed; 3) We will disciple them using all means and tools appropriate for their age until they become ready to be taught about how to serve the LORD JESUS in many different functions, positions and ways in the church; 4) We will mobilize all converts to use their gifts for the enrichment of the Body as well as for evangelism; 5) We will create a Christian community in the 5 Barangays (villages) and pray for continuous transformation in each of them. That at the end, whatever has been done in these Barangays will be duplicated in other outlying Barangays.
3G-HMI's activities include: providing transportation for children to and from school; school visitations with medical teams ; Saturday children's tutoring and activities; and Vacation Bible School. More specifically, this team's work tempo is very high: Sunday services in 3 different places every Sunday; Weekly visitation and follow up work of completed medical missions; Youth and singles monthly gathering; Parents or couple's day 3 times a year; Holy week special service; Children's summer camp; Youth and singles summer camp; Distribution of school supplies to impoverish children during school opening; Seven nights of special services before December 24; Christmas big events; New Year Thank Giving Day.
Local Conditions
The largest town closest to Talaan is Lucena in Quezon Province, part of Luzon Island. The area is poor and many families are dysfunctional due to economic hardship. Many families suffer from separation due to wage earners having to travel out of the local areas to find work. A typical laborer earns $6-$7 per day.
Overall Plan:
3G-HMI envisions establishing a campus-like facility where the church serves impoverished children, evangelism and education, services to the elderly and expanded Compassion International programs. By faith, the church is developing a Master Plan to build a number of facilities to expand their capacity to serve their community with increased services and reaching more people for Jesus. The building plan includes administration building, dormitories for girls and boys, library, kitchen, and basketball court.
Details of February mission's trip (15 – 24 February):
The purpose of our mission's trip in February 2019 will be to accomplish the following:
- Build relationships with the 3G-HMI church leadership and staff to support and encourage them; - To assist in self sufficiency: o Assist in building an aquaponics facility(12persons)
o Provide training and education to volunteers through mini-Doing Church as aTeam (DCAT) seminar (4 persons)
- To provide medical services with physical examinations and treating minor illnesses (Medical staff – 4 persons; non-medical support – 4 persons), for more information, contact Dr. Mona Suzuki, , and visit www.aimhawaii.org.
Planned Schedule: - Travel:
o 15 February, depart Honolulu/origination location o 16 February, arrive in Manila, travel toTalaan
o 17-22 February: Onsite
o 22 February: Depart for Manila o 23 February: Day of Fun in Manila o 24 February:Travel home
Information for volunteers: More to follow.
Cost for volunteers: This is the estimated cost that you would have to raise.
1. Plane ticket: $800.00
2. Lodging: $300.00 (Local Lodge)/$30 (Kubo)
3. Meals: $105.00
4. Transportation: $40.00

5. Incidentals: $50.00
Thank you again for your heart for Jesus and for those who will be truly impacted in an amazing way by your generosity, time and effort.
If you are able to support and participate in the 2019 Missions trip, please write to me, with your contact information (full name, email address, phone number) and which part of the mission you are interested in supporting.
There will be planning, coordination and preparation/training meetings leading up to the trip – in person or virtual (if you are outside of Hawaii). So keep your ears close to the ground!
If you are not able to participate in the 2019 Missions Trip, there are other ways to support this effort: 1) Pray for those who are planning and will be participating; 2) Provide financial support to individuals or to 3G-HMI (tax deductible if you are giving to the ministry); 3) Commit to participate in 2020 or other future missions trips.